Creating perfectly trimmed hedges in the garden is everyone's dream. They may create lovely borders, provide privacy and shade, as well as unique shapes and textures. Hedge trimmers are one of the most omnipresent and frequently used tools, presumably because cutting a hedge by hand may be a hard task. With the correct tools, a hedge can be perfectly aligned into any shape imagined or can be left in a well trimmed position. Simple, light, and easy to use at the same time. But in order to use it effectively and safely, just like any other power tool, there are a few things that must be done. Furthermore, if the tool isn't properly maintained, its performance will deteriorate over time.
Trim hedges as early as possible
As they mature, most hedgerows develop larger branches, a much more sickly appearance, and become highly woody. You run the danger of not only losing the neatly trimmed hedge of your dreams, but they can also get a little harder to keep up. Care for needy teenage hedges early on with routine trimming to help keep them in check.
To help keep your hedge looking healthy and vibrant, be sure to slightly taper your hedge so it is wider at the bottom than the top, this will allow more light to reach the bottom of the plant and will help keep it healthy and encourage growth.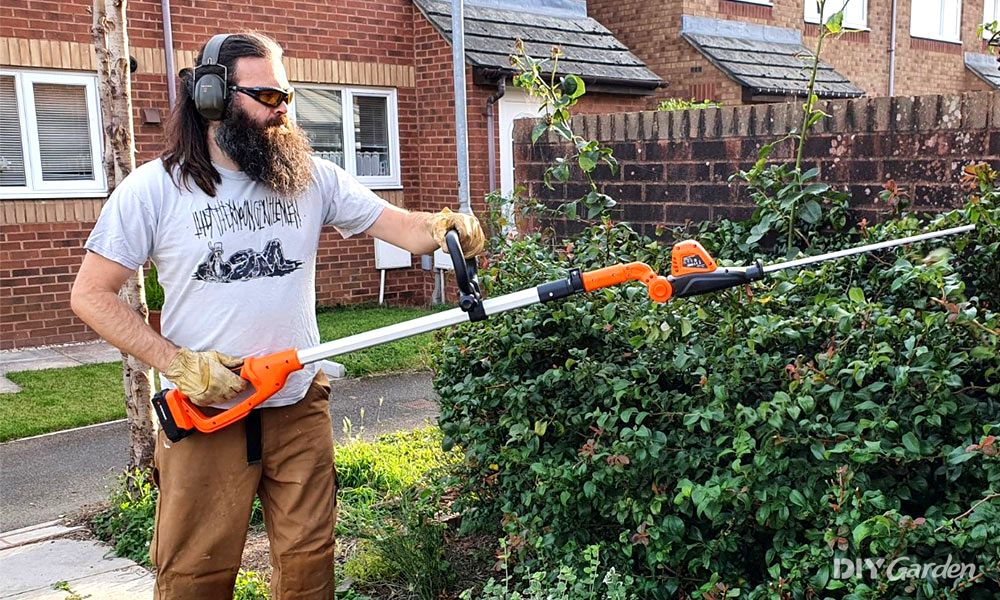 Start out slowly
It's akin to getting a haircut when you trim a hedge. Make sure to begin by cutting the hedge only in little pieces. This will tidy it up without possibly mutilating the plant and allow it to develop more fully over time. Hedge trimmers typically work quite quickly, so take your time and be patient.
When you do make a cut, it will go much smoother if you start from the sides and work your way up, cutting in the direction the hedge grows.
Deal with the debris
You want cleanup to be as simple as possible since cutting the hedge is a big enough task. Placing a sizable landscape sheet below the area you're working on is the simplest way to accomplish this. For simple disposal, the majority of the clippings should land immediately on the sheet.
Of course, gravity means that the top of the hedge clippings won't fall off as neatly as you might like and will need to be manually picked off. Try one of our convenient catcher plates instead, though, so you can clear as you go.
You may always use the lawnmower to go over any small pieces of debris that are still on the ground and pick them up.
If you need some ideas about what to read next, here they are:
Cleanliness is of paramount importance
Upon a hedge being cut, the trimming tool will gather dirt, sap, and other leftovers in addition to the hedge's remnants. If this isn't cleaned off, the blade will become much less effective at cutting, making it more difficult to trim your hedges in the future.
At the beginning, gently remove any leaves, twigs, or other dirt before cleaning your trimmer (do this while the apparatus is in the off mode). Once the debris has been removed, spray the trimmer's blades with an aerosol or a strong solvent and wipe off the extra fluid using a dry cloth.
You won't need to sharpen your trimmer as frequently if you do this, which will keep it clean, shining, and effective at cutting through hedges.
The blades should be sharp to the tee all the time
The most crucial aspect of using any cutting instrument is maintaining sharp blades. If you don't, the hedge trimmer will stop working properly and may experience a slight existential crisis as a result. If you want to prevent this, make sure to either have your trimmer sharpened by a local dealer or, if you're feeling brave, learn how to do it yourself.
You'll need a whetstone and a sharpening file for this. Before flipping the tool upside down and using a whetstone to remove the buildup from the bottom, begin by using the file to sharpen the blades, always going in the direction of the cutting edge and never in the opposite direction.
When you've finished, be sure to spray your tool with the resin solvent again to ensure the blades don't rust.
Omni Impex is the premier Oregon dealer in the country and brings to you the famed –
Cordless Hedge Trimmer HT255
The Oregon Hedge Trimmer is light enough for you to tackle tall and wide hedges as well as rows of smaller hedges. The laser-cut blades will cut neat and precise formations while maintaining the health of the plants.
Premium Blade Technology
Engineered with premium blade technology to outlast the competition. Rugged and durable, the Oregon HT255 Hedge Trimmer's blades are perfect for trimming and sculpting.
60cm (24") Laser-Cut Blades
Laser-cut blades mean cleaner cuts and healthier plants, while the low noise (74db) offers a combination of superior performance and operator comfort.
Ergonomics/Optical Balance
Light-weight (only 4.4kg with battery). Large and comfortable handles.
Specifications
2750 strokes per minute maximum cutting speed. Cuts up to a 19mm branch. Variable speed throttle.
Being the primary dealer of Forestry and Gardening equipment in Kolkata, Omni Impex carries a brand of reliability.